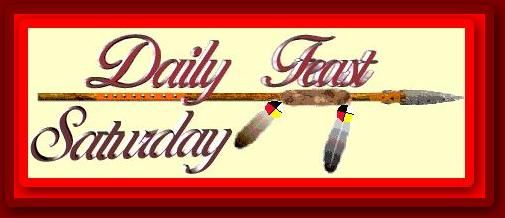 2014
November
Nudadequa
ᏄᏓᏕᏆ
Saturday
Dodaquidena
ᏙᏓᏈᏕᎾ
November 15 - Daily Feast
Walking in a garden is little different from walking into a room full of people. Color, shape, size, all play a part - and the more varied, the greater the interest. Only a few dominate the garden, and they are not always the prettiest. Some are herbs and serve as good medicine, while others stand in pretty little groups and dance in the breezes. Each of us is a part of the garden. Do we add or detract? Are we fragrant and do we require sunlight or can we survive in the shade? Do we need constant attention or are we perennial - faithful to our place and doing our best to bloom?
~ Two branches of the ancient Cherokee family....it has become essential to the general welfare that a union should be formed. ~
SEQUOYAH - CHEROKEE TALKING LEAVES
'A Cherokee Feast of Days, Volume II' by Joyce Sequichie Hifler

Elder's Meditation of the Day - November 15
"Our Spiritual belief is that we were created as part of the land - so our identity, our names, and our songs are all tied to the land."
Chief Roderick Robinson, NISGA'A
In the traditional way, the names of native people had great meaning. We even had naming ceremonies. The naming of someone was very important and had great significance because it was tied to the Earth. The identity of each member and the teachings of the songs were all tied to Mother Earth. We need to know these teachings from our culture. This knowledge will help us heal the people.
My Maker, today help me find my identity.

'THINK on THESE THINGS'
By Joyce Sequichie Hifler
There comes a time when we have to turn a firm and deaf ear to those people who have no other intention than to disturb our peace of mind. There comes a time when we have to turn ourselves about in our very tracks and ignore the bitter complaining voices of experience.
There comes a time when we have to get angry with ourselves for allowing bad to become worse when there is Someone bigger than we are who can handle everything.
There comes a time when we have to make a decision and to be so firm that it leaves no doubt in our minds that we know what we must do - and then do it.
There comes a time when we have to hear music and feel peace, or we have no foundation for living.
There comes a time when we must learn to appreciate and be thankful or lose all that matters to us.
There comes a time when we recognize the many faces of God as true blessings and give thanks.
Donvdagahv'i (ᏙᏅᏓᎦᎲ'Ꭲ) (Until we meet again)
Dewidi Tawodi Unega (ᏕᏫᏗ ᏔᏬᏗ ᎤᏁᎦ) (David White Hawk)
Nvwadohiyada (ᏅᏩᏙᎯᏯᏓ) (Blessings of health and peace to you)
Be good, be kind, and help each other.Respect the ground, respect the drum, and respect each other.
May The Creator Always Walk With You.