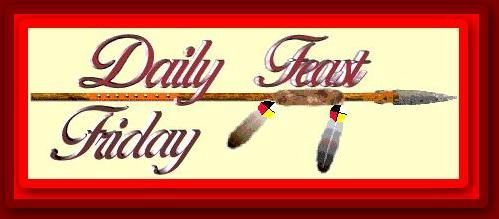 2017
March
Anuyi
ᎠᏄᏱ
Friday
Tsunagilosti
ᏧᎾᎩᎶᏍᏘ
March 31 - Daily Feast
Real power is often just knowing when to keep our mouth shut. We have so much we want to say and so many to say it to that it is almost impossible to stay silent. But silence teaches in a way that nothing else can. The mind makes deep adjustments in the quiet times. True laughter bubbles up from humor too precious for words - and brings with it a joy that dissolves disappointment. Real, mind-changing power is of the spirit and can clear a path a mile wide through pain. The human spirit fights valiantly, and when it is blended with this power, it comes out like a tiger.
~ My heart is big and glad that you have told us that you will not make war on Indians. ~
"A Cherokee Feast of Days, Volume II" by Joyce Sequichie Hifler

Elder's Meditation of the Day - March 31
"The old Lakota was wise. He knew that man's heart away from nature becomes hard; he knew the lack of respect for growing, living things soon led to a lack of respect for humans too. So he kept his youth close to its softening influence."
Luther Standing Bear, OGLALA SIOUX
When we live in nature it's like constantly being in school. We are in an environment that is always teaching. We are constantly being reminded that there are laws, Natural Laws, which are running the universe. Once we know these laws and we drift from them, we start to live our lives in a different way. Soon we become discontent, selfish and disrespectful. Then, we get in trouble. If our lives have become this way, it can be reversed by going back to nature to be among our teachers.
Great Spirit, teach men, again, the Natural Laws.

'THINK on THESE THINGS'
By Joyce Sequichie Hifler
A lady of much wisdom has often remarked, "If you want to feel well all the time and feel alive, you have to keep the rhythm in your body." Rhythm, the gentle, easy flow of life.
Ordinarily we think of keeping time with music when we think of rhythm. The very idea of allowing one's self the frivolity of feeling rhythm - and such a wonderful idea!
There is an underlying rhythm to all of living. Wherever there is life, there is that pulsating rhythm that has everything on the move. There is harmony and there is a subtle smoothness to finding one's own pace. When we get out of step and resist that pace, we have "one of those days" when everything goes wrong.
William Shakespeare wrote, "The man that hath no music in himself, not is not moved with concord of sweet sounds, Is fit for treason, stratagems, and spoils; the motions of his spirit are dull as night, and his affections dark as Erebus. Let no such man be trusted.