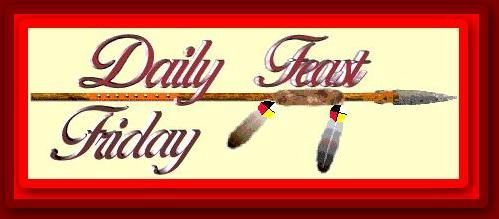 2015
July
Guyequoni
ᎫᏰᏉᏂ
Friday
Tsunagilosti
ᏧᎾᎩᎶᏍᏘ
July 17 - Daily Feast
Love has no part of abuse. Claims of great love are really claims of great need when there is abuse. Love doesn't abuse. It protects and comforts and gives support. Abuse is from possession of evil - the need to hurt and destroy. It is a need for a prey - a smaller prey where domination is secure. Human need is a net thrown over a thing or a person to keep them close and subdued. If escape seems possible the possessor turns to tears and persuasion as another way of dominating. But love - love is a deep sacred trust that runs through the most common acts, the shared hours, the sweetest and most trusting touch. It is the miracle of life.
~ Why does the agent seek to take away our religion? ~
"A Cherokee Feast of Days, Volume II" by Joyce Sequichie Hifler

Elder's Meditation of the Day - July 17
"My friends, how desperately do we need to be loved and to love."
Chief Dan George, SKOKOMISH
Oh my great Creator: Help me this day to love myself. I can't give away anything that I don't have myself. If I am to love others, then I must love myself. If I am to forgive others, then I am to forgive myself. If I am to accept others as they are then I need to accept myself as I am. If I am to not judge others, then I need to lighten up on myself. Let me experience this power of love...
My Creator, today I will love myself so I can love my neighbor. I will look at each person today and see Your light within them. If I do this, I will hold my brothers and sisters without guilt.

"THINK on THESE THINGS"
By Joyce Sequichie Hifler
At times, Americans seem too easily taken, too docile to political movements, and too indifferent to their own responsibilities as a free people. How easy it is to turn our heads and tell ourselves that there are intelligent people in high authority looking after our interests and that they will never let our freedom be lost. This kind of thinking is a fallacy. America still belongs to the people, and it is up to us to tell our representatives in Washington that we want it kept that way.
We are too easily led to believe that we deserve a way of life that appears free and easy. But seemingly free handouts will eventually take away our freedom unless we decide to personally do something about it.
Americans are known for their ability to start with a little ingenuity and a lot of faith to build powerful financial empires. But in great and small there beats a heart of devotion to God and country. In battle, no one could display more bravery, more determination, or more loyalty than these defenders of America. In the face of seeming defeat, young Americans have stood together and fought courageously.
Now, people of all ages must stand together. We must make our views known to the government. We must continually develop within ourselves moral, physical, and spiritual strength; and we must pray to God - without that faith, all is lost.
Donvdagahv'i (ᏙᏅᏓᎦᎲ'Ꭲ) (Until we meet again)
Tawodi Unega (ᏕᏫᏗ ᏔᏬᏗ ᎤᏁᎦ) (White Hawk)
Nvwadohiyada (ᏅᏩᏙᎯᏯᏓ) (Blessings of health and peace to you)
Be good, be kind, and help each other.Respect the ground, respect the drum, and respect each other.
May The Creator Always Walk With You.