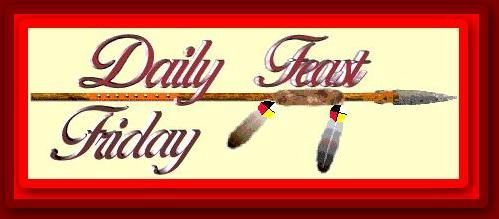 2017
January
Dunolvatni
ᏚᏃᎸᎠtᏂ
Friday
Tsunagilosti
ᏧᎾᎩᎶᏍᏘ
January 27 - Daily Feast
Volume II
Trust is a fragile gem that most people never intend to lose. Too often a promise is easily made and easily broken. It reveals a deeper nature that may never have been trustworthy. A Cherokee elder once commented, "Indian may forgive - but Indian never forget." No grudge, but wisdom that a trust shattered one time may well be broken again. Trust is a stand - a ga to gv - says the Cherokee. If the Spirit is trustworthy, then we should be trustworthy. He is the Gem, the Power of the stand we take. We personally have no power - but the Gem has it all.
~ The Indian world was devoted to living; the European world to getting. ~
"A Cherokee Feast of Days, Volume II" by Joyce Sequichie Hifler

Elder's Meditation of the Day - January 27
"The journey to the Spirit World is a long one, my friend. But when you die, that doesn't mean that this is the end."
The Elders tell us of the other dimension, the Spirit World. Our spirit in our bodies does not die, it only looks that way to our eyes and our brains. Some of our ceremonies allow us to see into the Spirit World. Death is only part of a process of life. It shows the transition into the Spirit World. The Elders tell us this is a joyful life journey.
My Creator, help me to understand both the seen world and the unseen world. Let me not be afraid of the world You live in.

'THINK on THESE THINGS'
By Joyce Sequichie Hifler
There is much to be said of small things. Even in this age of emphasis on bigness we must realize that bigness is only a mass of small things. An idea is a small thing. With it we can change our world. We can take a tiny seed and give it careful attention and reap a hundred fold. We can take a little idea and give it our attention and build it into a fortune.
A smile is a small thing. Smile once at someone in passing and three will return the smile. Smiling is so contagious that it moves from person to person until a hundred smiling faces are the result of one.
A thought is a small thing. One thought inspires another and another until a mental image is formed. From that mental image blueprints are drawn. And from those blueprints worlds are built.
Hope is a small thing. One tiny glimmer of hope can lift us out of the deepest pit of darkness. One whisper of encouragement will help us to know that as long as there's hope there is an excellent chance.
A wish is a small thing. Like a little prayer, it climbs the steps to an idea that makes a smile and gives us hope to make our wishes come true. For in small things are all great things formed, in little beginnings the possibilities of great events.