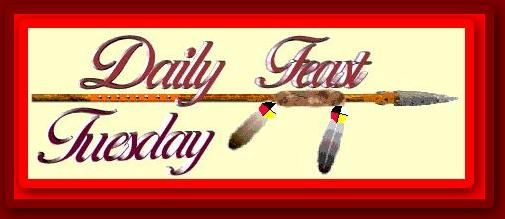 2017
January
Dunolvatni
ᏚᏃᎸᎠtᏂ
Tuesday
Talineiga
ᏔᎵᏁᎢᎦ
January 24 - Daily Feast
Volume II
Homecoming is not just a certain hour but a feeling, an attitude, an an na li - a friend. One phase of the day has been completed, so now back to the reasons for it - home. Home with its familiar fragrances, its lighted warmth and peace of mind. At least, home ought to be this way - though it isn't always. Too little time, too much weariness, too many complaints. Too little, too late, too bad. Real homecoming is a state of mind. Someone needs to be comforted, someone needs a gentle touch, someone needs to think of others. It may not be perfect, but working together makes homecoming a celebration.
~ Do not touch the money of the white man or his clothes. We do not fight for these things. The Seminole is fighting for his hunting grounds. ~
"A Cherokee Feast of Days, Volume II" by Joyce Sequichie Hifler

Elder's Meditation of the Day - January 24
"Always listen to what the Elders say."
Dona Josefa Medrano, HUICHOL, SIERRA MADRE, MEXICO
In school we have been taught to go to the encyclopedia when we need information about certain subjects. From the time we are little, we have a natural tendency to seek out role models. When we need information about living we tend to seek out books about living. These maybe self help books. The world is full of information. For the Native people, we have our Elders. All races have Elders. Our lives will run much smoother when we listen to the Elders. They don't always tell us what we want to hear but they always tell us what we need to hear. The Elders have the ability to make the truth sweet.
Creator, thank You for the Elders. Help me this day to listen to them.

'THINK on THESE THINGS'
By Joyce Sequichie Hifler
We have to believe that the courage to do the impossible is possible. We have to have courage before we give up, thinking we are always going to be in the middle of difficult situations.
Lasting courage comes by refusing to judge everything by appearances and by hearsay. The world is rife with rumors about anything and everything. Those who never intend to do anything of consequence will tell us how bad things are and how much worse it is going to get.
Others will take heart and ride out the storm. There may not be any signs that promise better times, but there is that glimmer of inner-light, that knowledge that those who make it are the ones that kept going when everyone said it couldn't be done.
If we can bear defeat and not lose heart, we will know it was no defeating life, but only one small part that went awry.