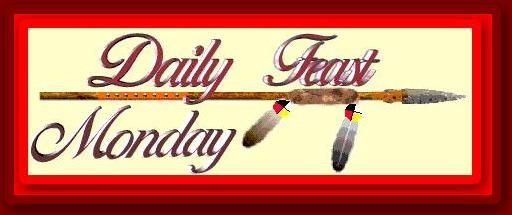 2017
January
Dunolvatni
ᏚᏃᎸᎠtᏂ
Monday
Dodaquonvhi
ᏙᏓᏉᏅᎯ
January 16 - Daily Feast
Volume II
Use your imagination for its intended use - to create beauty and happiness and justice. If you use it for unfriendly reasons, it will eventually steal your wings and your feet. The Cherokee way of saying it is di gu yi s gi, the paymaster, the returns based on how it has been used. Do not envy another person, for your own imagination has grand gifts for you. Great suffering has been the lot of many who used their talented minds to bring hurt and pain where there should have been harmony.
~ There was nothing between him and the Big Holy. The contact was immediate and personal. ~
CHIEF LUTHER STANDING BEAR - LAKOTA
"A Cherokee Feast of Days, Volume II" by Joyce Sequichie Hifler

Elder's Meditation of the Day - January 16
"If people are going to get back into balance, one of the things they have to do is seek the truth. They have to start really speaking the truth themselves, and that's a difficult thing to do. The way it is now in the world, we don't mind lying."
John Peters (Slow Turtle), WAMPANOAG
Well, everybody's doing it. Do unto others before they do unto you. If it wasn't for back luck I would have no luck at all. These are excuses and rationalizations for giving up accountability. Be true to yourself. Seek the truth, The Great Spirit is the truth. The truth shall set you free. This is the truth. We cannot be free if we are dishonest nor can we live a balanced life if we are dishonest. As we grow, we need to start taking stands. All warriors take stands. The warrior's belief is constantly being aligned to truth. The warrior will always know where he/she stands.
Great Spirit, help me today to seek Your truth, not my truth.

'THINK on THESE THINGS'
By Joyce Sequichie Hifler
Vision to see, faith to believe, courage to do. With these things we improve living every day. Vision to see what we do want instead of visualizing all the wrong things. Faith to believe that good overcomes the bad. We give strength to whatever we believe in -- good or bad.
It we let our doubts rule us and our fears control us, then we are believing in the wrong things. We need courage to go do the right things -- the thing we know is right regardless of what someone is trying to suggest to us. Courage to be oneself, to have faith, to believe in good, to see beyond what seems to be and then to work toward what we are capable of being.