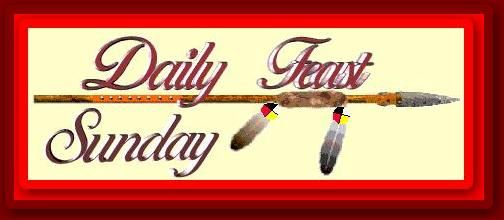 2017
January
Dunolvatni
ᏚᏃᎸᎠtᏂ
Sunday
Dodaquasgvi
ᏙᏓᏆᏍᎬᎢ
January 15 - Daily Feast
Volume II
The pond reflects a day of mist in gray tones. When the sky is blue, the pond is blue. Patterns like icewebs spread across the frozen surface in the middle of winter - so like we are when we take on the moods of others. Hills and lakes and fields are touched by the actions of the sky and wind. In the night season and all though the day changes take place. Sometimes the sky glitters with wings - sometimes it is softened by snowflakes. Man's soul has a light like that of a lantern that is untroubled in the turmoil of wind and storm. But we must know what we are reflecting.
~ My Grandchildren, be good. Try to make a mark for yourselves. Learn all you can. ~
SITTING BULL - SIOUX MEDICINE MAN AND CHIEF
"A Cherokee Feast of Days, Volume II" by Joyce Sequichie Hifler

Elder's Meditation of the Day - January 15
"It's all spirit and it's all connected."
Grandfather William Commanda, ALGONQUIN
If everything is connected, we cannot disconnect. To disconnect is not a real choice. This is why we are always spiritual no matter what we do. Every alcoholic is spiritual. All our brothers and sisters are spiritual. We may not be behaving correctly, but nevertheless, we are spiritual. Our choice is to live out of harmony with spiritual ways or in harmony with spiritual ways. Everything is spiritual.
Great Spirit, give me the knowledge to be in harmony with the spirit today.

'THINK on THESE THINGS'
By Joyce Sequichie Hifler
Only a few months until the third volume of CHEROKEE FEAST OF DAYS will be published. A book is a new baby and treated with the same care -- except for the diapers. This child is sub-titled Many Moons and meant to lift hearts and give someone a pleasant hour.
Recent nights have had splendid moons -- so bright the whole land is visible. The deer stay to the shadows and even the owls seldom call when it is so light. Cherokee people use the moon to show how everything is in the round. The shape of our eyes are curved toward round, the world is round and so the moons and stars and many other things. But the best is the circle which is infinity -- life everlasting, no beginning and no end.