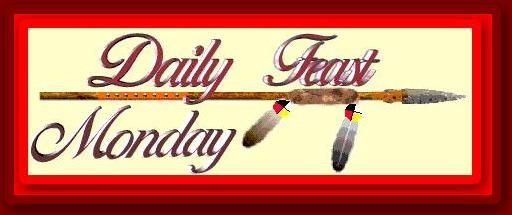 2014
December
Vsgiga
ᎥᏍᎩᎦ
Monday
Dodaquonvhi
ᏙᏓᏉᏅᎯ
December 29 - Daily Feast

Never turn your good successful idea into an organization and set up councils and committees to run it. If you do, you will lose the common touch and the organization will turn to catchy phrases and initials that identify it. Committees will spend their time having lunch and talking about promotion rather than quality. People lose sight of quality and service as they try to squeeze out more hours, more money, more product that no longer is what it once was. Watch out for titles and power and wretched little people who want recognition with as little work as possible. Come down off of it. Do good service, make a good product that is not chicken soup from chemical flavorings. Do everything with the motto, "I can be trusted." It will amaze you what it can do.

~ General Howard said, "Shut up! The law says you go on the reservation to live, and I want you to do so. ~
'A Cherokee Feast of Days, Volume II' by Joyce Sequichie Hifler

Elder's Meditation of the Day - December 29
"What you see with your eyes shut is what counts."
Lame Deer, LAKOTA
Another whole world opens up when we close our eyes and calm our mind. Be still and know; be still and hear; be still and see; be still and feel. Inside every person is a still, small voice. Sometime it is necessary to close our eyes to shut down our perception in order to see. Try this occasionally; when you are talking to your child or spouse, close your eyes and listen to them. Listen to the tone of their voice; listen to their excitement; listen to their pain - listen.

Great Spirit, today, let me hear only what really counts.

'THINK on THESE THINGS'
By Joyce Sequichie Hifler

Realizing that there is a multitude of wonderful things to appreciate, we must shake them all together in our minds and wait for the chosen one to rise to the top like bubbles. Life is such a challenge, such a joy to live when it is appreciated. If we could only realize who gave us life, we would understand even more why the Creator intended us to appreciate and love all that is about us.

The thing we can appreciate are never in any particular order, but mingled together as they are in our lives. We can so beautifully and joyfully appreciate the sound of our children's laughter when sudden happiness overtakes them; the tremendous and moving power of silent prayer; a strong voice singing a song of inspiration, or of sentiment; early morning sunrises, misty pink and fresh; a mockingbird singing out its heart in the depth of night; the touch of souls in understanding; violin music; and our children in prayer, in spells of delight, or in any other moment.

To name them all would be an impossibility, to live them all is a blessing. We must not pass these things by without appreciating them. We must not lose them by failing to give thanks. These are the things we always have near us, and we can appreciate them merely by attuning our senses to them.
Donvdagahv'i (ᏙᏅᏓᎦᎲ'Ꭲ) (Until we meet again)
Dewidi Tawodi Unega (ᏕᏫᏗ ᏔᏬᏗ ᎤᏁᎦ) (David White Hawk)
Nvwadohiyada (ᏅᏩᏙᎯᏯᏓ) (Blessings of health and peace to you)
Be good, be kind, and help each other.Respect the ground, respect the drum, and respect each other.
May The Creator Always Walk With You.