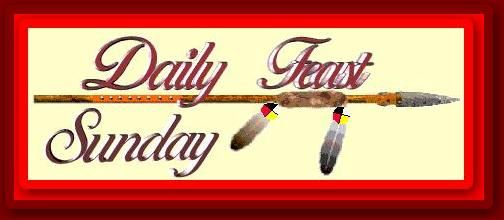 2015
November
Nudadequa
ᏄᏓᏕᏆ
Sunday
Dodaquasgvi
ᏙᏓᏆᏍᎬᎢ
ELEVEN
Du
Ꮪ
BIG TRADING MONTH
Nu Da Na 'Egwa
Ꮔ Ꮣ Ꮎ 'ᎡgᏩ
Great Spirit, the council here assembled, the aged men and women, the strong warriors, the women and children, unite their voice of thanksgiving to Thee. Na-Ho!
IROQUOIS THANKSGIVING FESTIVAL
November 1 - Daily Feast
The danger point comes after a victory when we think there are no more battles. How many wars have been fought thinking this is the war that will end all wars? Even in our own private battles we cannot lie back and think we have won the right to peace. We do need to know and remember that we are more than conquerors. It is a life promise, but we have to claim it. Other claims have taken precedence - weariness, lack, sickness - but we are conquerors, even more than conquerors. We are winners and over comers. Believe it, because it is true, and the more we claim it, the stronger it is.
~ Where is our strength? In the old times we were strong. ~
'A Cherokee Feast of Days, Volume II' by Joyce Sequichie Hifler

Elder's Meditation of the Day - November 1
"Times change but principles don't. Times change but lands do not. Times change but our culture and our language remain the same. And that's what you have to keep intact. It's not what you wear - it's what's in your heart."
Going back to the old ways doesn't mean giving up electricity, homes and cars. It means living by the same principles, laws and values that our ancestors lived by. This will allow us to live successfully in today's world. The spirituality our ancestors lived is the same spirituality we need in these modern times. There are too many influences from TV, radio, newspapers, magazines and negative role models that are guiding our lives in a bad way. Our stability is in the laws, principles and values that our ancestors were given and that our Elders teach us.
Great Spirit, let me live my life in a spiritual way.

'THINK on THESE THINGS'
By Joyce Sequichie Hifler
Leave yourself a choice. It is a sorry state of affairs when a person's life becomes so regimented that it is impossible to make even one change in plans. There is a story about a gentleman who kept a record in minute detail of his living and every cent he earned so that he could make a trip abroad. The record keeping became such an obsession that when he could make the trip he took along crackers to keep from eating in the dining room aboard ship. The journey was nearly over before he discovered the price of his meals was included in the fare.
How much do we miss by refusing to accept the bounty of choices? "If only" and "I wish" are so over used. We bind ourselves daily by refusing to recognize the volume of opportunities open to each of us. All of life is not free, but there is much available for our personal selection.
Dr. William S. Sadler wrote of a woman who was so orderly and systematic in her living that she inquired of her minister how to go about dying since she had never done it before. Living in a systematic world is possible, but there are limits to what we can prepare for and about which to be orderly. Daily we meet and settle many small emergencies, and some not so small. And it is our developed ability to meet these things successfully and on the spur of the moment that makes a well-rounded individual.
But the steady, uniform methods of doing things do not necessarily mean a person is ready to meet every situation in life. In fact, such living often makes change practically impossible when change is sorely needed.
Order is heaven's first law. But order means first things first. A place for everything and everything in its place. Then, if we've learned how to live, we never have to worry about the art of dying gracefully.
Donvdagahv'i (ᏙᏅᏓᎦᎲ'Ꭲ) (Until we meet again)
Tawodi Unega (ᏕᏫᏗ ᏔᏬᏗ ᎤᏁᎦ) (White Hawk)
Nvwadohiyada (ᏅᏩᏙᎯᏯᏓ) (Blessings of health and peace to you)
Be good, be kind, and help each other. Respect the ground, respect the drum, and respect each other.
May The Creator Always Walk With You.