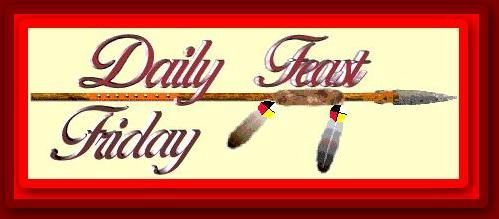 2017
February
Kagali
ᎧᎦᎵ
Friday
Tsunagilosti
ᏧᎾᎩᎶᏍᏘ
February 3 - Daily Feast
If it is going to offend you, don't look and don't listen. Offense is a weapon used against peaceable people. It tries to keep us from seeing the morning sun and feeling the mist against our faces. Everything tries to tamper with happiness - and happiness is not because of something but in spite of something. Don't be receptive to ugliness designed to amuse - or to inform, as some so cleverly put it. Offense leaves a wound that has trouble healing.
~ All miserable as we seem in your eyes, we consider ourselves much happier than you. ~
"A Cherokee Feast of Days, Volume II" by Joyce Sequichie Hifler

Elder's Meditation of the Day - February 3
"It's very hard to do things in the right manner, but as long as we do things right, we are in turn with the Great Spirit."
When we are right with the Great Spirit, we are right with all things. It is impossible to be out of harmony with anything or anybody when we are in harmony with the Great One. So, if during the day a problem crops up and someone makes us mad, the best thing we can do is talk to the Creator first, ask for His help, then continue our conversation with the other person. In this way our emotional nature will keep aligned with our thoughts, and we will always stay right with the Great Spirit.
Great Spirit, I ask You to guide me on the Red Road today.

'THINK on THESE THINGS'
By Joyce Sequichie Hifler
To so many, getting up in the morning is the worst way to begin a day. To them every morning is the morning after, a time to feel nervous anxiety and regret in the deepest sense, while to others morning is a new world. Yesterday ceased to be with sleep last night.
How much better off we'd be if only for a few hours we could put out of our minds every painful thought and every unpleasant person until the mind and body could find enough new life to begin again.
"The early morning hath gold in its mouth," wrote Franklin. But it has things more precious than gold. It has life as fresh and sweet as the shimmering, clinging dewdrops in the first rays of golden sunlight. It has the grace of mimosa leaves rippling in the gentlest breeze. It has the songs of the birds and the love of a new awakening.
And in this breathless creation is something more. A new opportunity, another chance, a challenge to walk on, more strong, more forgiving, more loving.
Sleep deep and rest sweet, but rise glad. Don't let one joyful second be lost in dead oblivion. This is a vision of newness awaiting even the least to arise and accept the best - a new beginning.
Morning need not be a jury trial for oneself. Dawn and sleep can be a miraculous cleansing to set us out on our feet ready to begin again and in a friendlier atmosphere. We must feel friendly toward ourselves before we can possibly find morning good to anyone else.
An unknown writer once wrote: "Every morning lean thine arms awhile upon the window sill of heaven, and gaze upon thy Lord, the, with the vision in thy heart, turn strong to meet thy day."
We need to be strong to meet the day with self control, to find our reason and purpose, but, more important, to leave behind us the heavy and darkened thoughts that kept us from seeing the breathtaking beauty of the most important time-this morning.