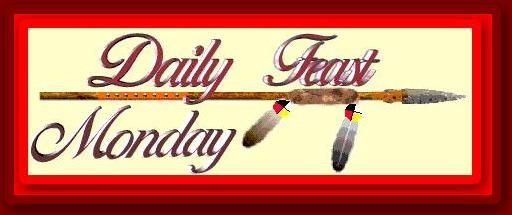 2017
January
Dunolvatni
ᏚᏃᎸᎠtᏂ
Monday
Dodaquonvhi
ᏙᏓᏉᏅᎯ
January 30 - Daily Feast
Volume II
Nothing is sweeter than to have a friend to rely on. We need each other to ease worry, to give and get reassurance. But when that reliance focuses on nothing but problems, then there needs to be a change toward solutions. Problems can make some people feel significant. The struggle can be too important and having someone hear all about it can detract from friendship. We can never do another person a greater service than to stop being a prop for unstable emotions. Love and care and support - but never be a prop. It steals the floor where a person needs to stand.
~ The Cherokee people do not desire to be involved in war, but self-preservation fully justifies them to the course they have adopted and they will be recreant to themselves if they do not sustain it. ~
JOHN ROSS - CHIEF, CHEROKEE NATION
"A Cherokee Feast of Days, Volume II" by Joyce Sequichie Hifler

Elder's Meditation of the Day - January 30
"Bright days and dark days were both expressions of the Great Mystery, and the Indian reveled in being close to the Great Holiness."
Chief Luther Standing Bear, SIOUX
The Great Spirit created a world of harmony, a world of justice, a world that is interconnected, a balanced world that has positive and negative, this way and that way, up and down, man and woman, boy and girl, honest and dishonest, responsible and irresponsible, day and night. In other words, He created a polarity system. Both sides are to be respected. Both sides or anything are sacred. We need to do good and we need to learn from our mistakes. We need to honor what takes place in the daytime and we need to honor what takes place in the nighttime. WE learn that we need to learn and we see what we are supposed to see by staying close to the Great Spirit. We need to be talking to Him all the time, saying "Grandfather, what is it you want me to learn?"
Great Spirit, let me learn today that all things are sacred. Help me stay close to You, my Creator.

'THINK on THESE THINGS'
By Joyce Sequichie Hifler
The nicest thing about the end of the day is the giving. We give in to needed rest, forgive ourselves and others that everything on the list was not accomplished in one short day. We give love to those around us and give peace to those who need someone to stand with them.
We do not always do what we wanted to do -- showing a good side that others may not know we have. A cry that life is too hard should fall to the ground. Of course, it is too hard, but if we are not tried and tempered, how do we handle the changes when they come? We need to give ourselves support and stop dwelling on what seems so wrong.
2017
January
Dunolvatni
ᏚᏃᎸᎠtᏂ
Tuesday
Talineiga
ᏔᎵᏁᎢᎦ
January 31 - Daily Feast
Something to look forward to gives us reason to get up in the morning. It may be no more than watching the sun lay long shadows across the land, or enjoying the aroma of coffee and the sound of bacon sizzling in the skillet. Life's little pleasures give us greater compassion and the ability to comfort and to be comforted. It is a lonely road that does not have time for the daily joys that are so common but so enlivening.
~ Certain small things and observances sometimes have connection with large and more profound ideas. ~
"A Cherokee Feast of Days, Volume II" by Joyce Sequichie Hifler

Elder's Meditation of the Day - January 31
"In sharing, in loving all and everything, one people naturally found a due portion of the thing they sought, while in fearing, the other found need of conquest."
Chief Luther Standing Bear, SIOUX
There are two systems of thought that are available for us to choose from. One is the love-thought system and the other is the fear-thought system. If we choose love, we will see the laws, principles and values of the Creator. If we choose fear, the results will be so paralyzing that it will cause us to take over and not rely on the Great Spirit. The fear-thought system will automatically cause attack, conflict, need to control over others. The love-thought system seeks peace of mind, unity and causes us to be love seekers.
Great Spirit, today let me see only love.

'THINK on THESE THINGS'
By Joyce Sequichie Hifler
We smile in remembrance when the light touch of something unseen touches our spirits. Forgotten for a brief time are the familiar fragrances, the special scent of a gardenia a warm sunbeam or strain of music.
How rich we are in memories. What a wealth of excellence we can take from the less important -- that may one day be just as important. We can allow those old dead unhappy thoughts to dissolve, leaving only the cream, only the secret hidden things in our hearts to smile about. Certainly, there were some unhappy and hard times, but how do they compare with the good ones?